Workers' compensation is available to someone who is injured on the job. While the laws vary from state to state, worker compensation insurance is available in all 50 states. Some states, including NJ, allow a claimant to settle their Workers Compensation injury claim with the insurance company for cash prior to the conclusion of treatment. Let's try to answer the question; "How much money can I get from a workers' compensation case in New Jersey?"
NJ Workers' Comp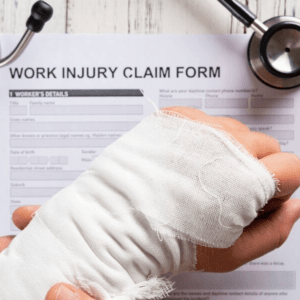 If a worker is injured on the job in New Jersey, the law provides the injured worker with benefits. They cover medical treatment and partial replacement of the wages lost by the worker; while he or she is unable to work. In addition, some injured workers' will receive additional compensation. That is, if it is determined that a permanent injury or disability resulted from the injury. In New Jersey, workers' compensation is regarded as a "no-fault" program so the injured worker is fully entitled to the above-mentioned benefits unrelated to any determination of who may have been at fault for the accident. 
Workers' Compensation NJ Rates
NJ workers' compensation pays 70 percent of lost wages to the injured worker while he or she is unable to work. Workers' Compensation NJ rates for 2019 range from a minimum of $246 per week to a maximum of $941 week for temporary and permanent disability. Benefits for someone under temporary total disability can last as long as 400 weeks; while a maximum duration of 600 weeks of benefits is possible for an injured worker who sustained a permanent partial disability. Of course, if the worker got the injury while working a second part-time job, the compensation calculation may become complicated. Beyond money payments, compensation for an injured worker also includes coverage for all medical expenses that are related to treatment for the on-the-job injury. 
Workers' Compensation NJ Forms
As with most states, New Jersey has strict requirements regarding the reporting of workers' compensation injuries to injured workers by employers. The state law requires New Jersey employers to report all work-related accidents on a First Report of Injury form to their insurance carrier as soon as possible; so that the insurance company can file it with the state of New Jersey. It also requires the employer to file periodic reports to the state regarding the injured worker's condition; including when the employee has returned to work. The employer is also required to inform the state within 26 weeks of the injured worker having reached maximum medical improvement. 
Workers' Compensation NJ Lawyers
The value of your workers' compensation case is based upon numerous factors. That includes the severity of the injury; the degree of permanent impairment that may result from the injury; and your normal level of compensation. If you sustained an injury and have a worker compensation claim, get the assistance you need; in order to get the maximum value from your claim. The workers' compensation NJ lawyers at the Law Offices of James C. DeZao can answer your questions and assist you through the entire legal process. Our goal is to get you all the medical treatment you need; and the best cash settlement of your workers' compensation case. Call us today for a free consultation at (973) 358-6134.