When getting divorced in the state of New Jersey, there is a step-by-step process that needs to be followed to ensure that things are handled the right way. People choose to end their marriages for many reasons. One person may no longer feel like the connection is there because of multiple problems that have happened throughout the relationship. One person in the marriage may have been unfaithful on numerous occasions, causing the other person to finally decide that they have had enough. No matter the reason for a divorce, those who are choosing to end a marriage will need to hire a New Jersey divorce attorney.
DeZao Law goes over the steps that people should follow when choosing to get divorced.
Hire a Reputable Divorce Attorney
You should always make sure to hire an attorney in New Jersey who works on divorce cases. The attorney would let you know what you need to do from beginning to end to get through the divorce process as easily as possible. Unfortunately, some divorce proceedings go on for months or years at a time. It is usually because one or both parties are not willing to cooperate with one another. However, with a divorce attorney's assistance, the chance of getting through this legal situation with ease is much more likely.
File Your Complaint
With your attorney by your side, file a divorce complaint with the local court. Once you file the complaint, your former partner will receive a notice that lets him or her know that you have filed a petition for divorce. Your ex will need to respond to the petition and may then choose to hire their own family law attorney.
Provide Information Relating to the Divorce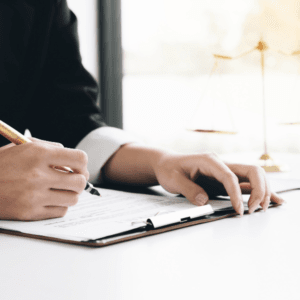 Once you have filed for divorce, you can provide important information to your attorney. Some of the information you should bring with you when meeting with your divorce attorney includes:
Copies of financial records/bank statements
List of property and belongings owned by you and your ex that was obtained during the marriage
Any information related to infidelity or reasons for the divorce that may be used to help you reach a better outcome during the settlement process
The attorney needs to know this information to better serve you and help you get what you are looking to get out of the marriage. You can discuss your wants and needs with the attorney. He will make the effort to help you reach an outcome that satisfies you.
Work with Your Attorney to Reach a Settlement
Once your attorney has more information, they can work on getting you through the divorce process with ease. The process involves attempting to negotiate with your ex through his or her own lawyer during mediation. When a settlement is reached because both sides agree to arrangements, the divorce may be finalized soon after.
Need to File for Divorce in New Jersey? DeZao Law Wants to Help Make the Process a Lot Easier
Do you need to get divorced in New Jersey? If so, the law office of James DeZao can help. We understand the process of getting divorced in New Jersey. We are ready to help former couples get through this legal situation with the least amount of stress possible. If you are ready to get the process started, contact our office today at (973) 358-6134 to book a free consultation.