Riding the bus to get to and from work, school, the doctor, or the store is a great way to save money on gas, car repairs, service, and help the environment all at one time. But, riding on a public bus can also be troublesome. Being involved in an accident can leave you injured to the point where you have to be hospitalized, miss time at work, incur medical bills and struggle to provide for your family. If you are a passenger in NJ transit buses, can you file a personal injury claim after a bus accident? 
Injured in a Bus Crash: Can I File a Claim?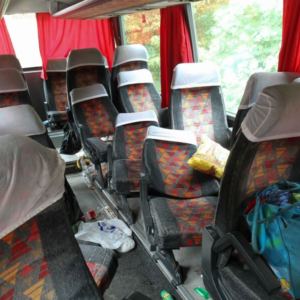 So, you suffered injuries in bus accidents, can you file a claim? The short answer is yes. It is in your best interest to speak to a bus accident lawyer immediately to begin building your personal injury case against the parties at-fault for the crash.
There are quite a few exceptions or nuances that insurance companies have in the policies they write for bus companies. These nuances can limit the amount of money paid out per individual passenger or a pool of money is set aside for all of the passengers on the bus. If this is the case, each individual passenger will then have to file a claim against the pool to obtain compensation for their injuries.
What to Do Following a Bus Crash
The steps you take following a bus crash can either help or hurt you when filing a claim against the at-fault parties. Even though you were not the bus driver, you should remain at the scene of the crash. This proves to law enforcement that you were actually a passenger on the bus and not trying to obtain compensation fraudulently.
While at the scene, try to help others injured if you are not hurt as badly as them. Call 911 and give an accurate description of where you are located. Use your phone to take pictures of your injuries; damage to the bus; damage to other vehicles or buildings; the street signs; the road conditions; and the debris from the crash.
When emergency personnel arrives, make sure you provide a statement to the police about the crash. Let the paramedics, firefighters, or EMTs evaluate you for any injuries at the scene. If they recommend that you seek additional tests or care at the hospital, do not turn this down. Let them transport you via ambulance. Documented medical care goes a long way when filing a claim for a public bus accident.
Contact an Experienced Personal Injury Attorney After a Bus Accident
If you were injured in mass transit accidents, it is important that you protect your rights as a victim. Even though you were a passenger, you are still entitled to compensation if you suffered an injury. Contact The Law Offices of James C. DeZao, P.A. in New Jersey to begin your bus accident claims. Call our office at (973) 358-6134 to schedule a consultation. We know the bus accident law of New Jersey and can help you navigate the legal waters.